TV Advertising Sydney
With more than two dozen free-to-air TV channels, multiple Broadcast Video on Demand (BVOD) platforms and subscription TV options available to Australian viewers there are more ways for viewers to consume video than ever before, and conversely more TV options for advertisers to choose from.
Learn more
Get in touch
Our services
When people refer to TV advertising, they are often referring to traditional TV or what is now known as Linear TV or broadcast TV, which is free-to-view TV received via aerial, satellite or cable, that has a prescheduled programming format can be watched live, time shifted or as playback.
The average Australian still consumes more than 65 hours of Linear TV each month, which is just over 2 hours each day. Linear TV still reaches over 89% of Australian each month and top rating programs still regularly deliver more than 1 million views each night.
The proliferation of new technology over the past few years has spawned multiple new ways that viewers can consume video content. The most significant of these is BVOD, which now accounts for more than 56 million hours of consumed video content each month. BVOD can be viewed via a connected TV, mobile device, computer or set-top box, and can be streamed live or viewed on demand.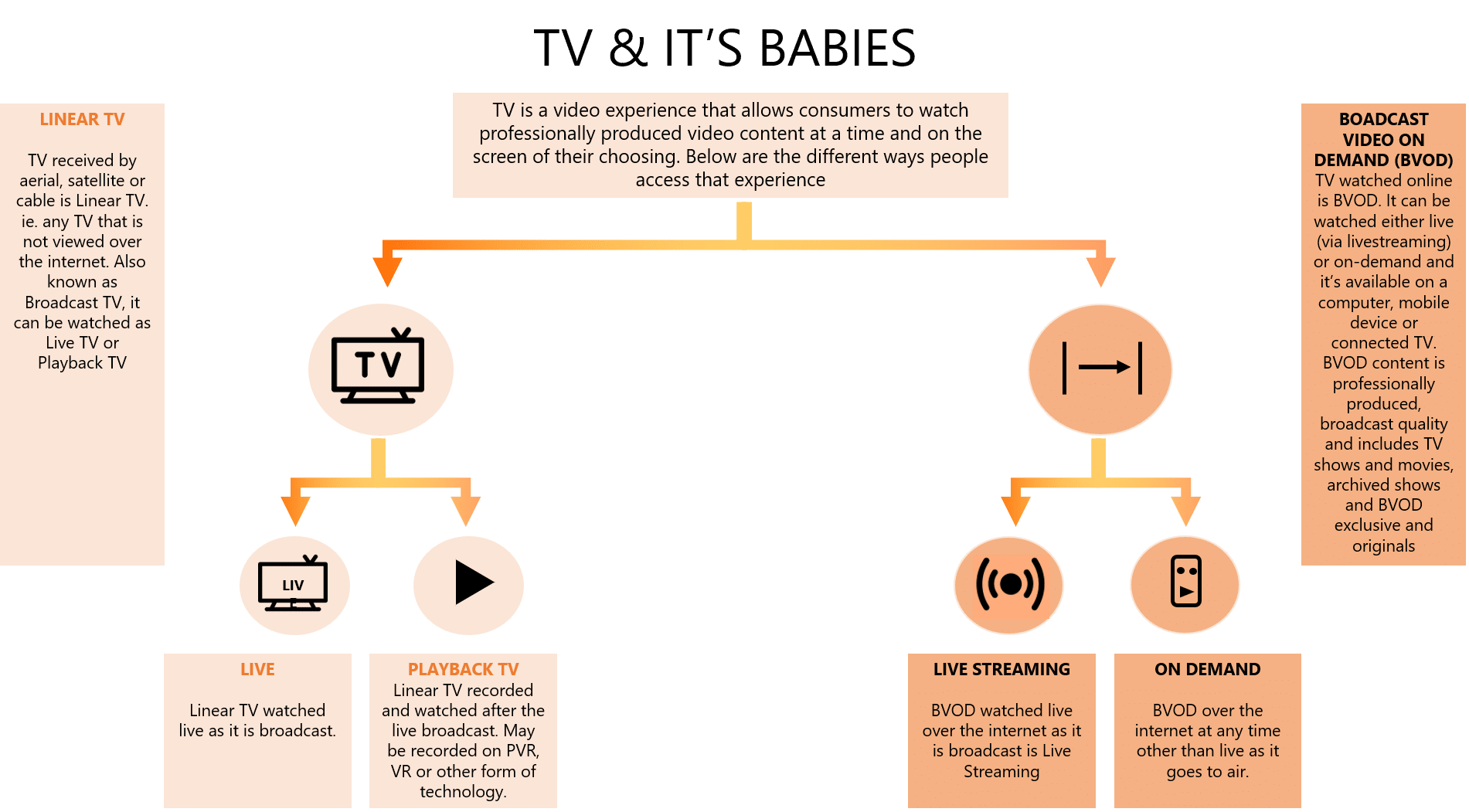 Linear TV advertising can be bought across all commercial channels, split by metropolitan markets (five capital cities) and major regional markets. TV campaign audiences are generally bought against a specific target audience demographic (of which there are dozens measured). The target demographic for a campaign forms the basis upon which the TV buying strategy is developed. It influences the channel selection, day of week and individual program placement.
Once a Linear TV campaign is bought it is not a matter of set and forget, campaigns need to be tracked on a weekly basis to ensure audience targets are achieved, program placement needs to be adjusted to ensure maximum ROI, post times need to be checked to verify all spots went to air as booked. By utilising the services of an experienced TV buyer an advertiser can achieve upward of an addition 40 per cent in value for the budget compared to if they booked the campaign themselves.
With the growth of BVOD viewing most TV campaigns will now allocate a portion of their TV budget to BVOD activity. This allows incremental reach to be achieved however more importantly, it allows a video campaign to be measured with more insightful metrics. A BVOD campaign can measure view through rates, complete views, click through rates, cost per click, frequency capping and has the advantage that ads are non-skippable.
The other advancement new technology has brought to TV advertising is the introduction of addressable or programmatic video buying, which means we can now target and follow an audience, not just a demographic.
We have the ability to overlay other data sets such as purchasing habits, lifestyle stage, devices used on top of an age filter to further refine and target a campaign at a more granular level.
TV advertising also works as a major part of a multi-channel campaign with digital, print, radio and social creative supporting its message.
To learn more about how television advertising can help grow your business, get in touch with the team at Multi Media.
Targeted TV
What is targeted TV or addressable TV?
Targeted TV uses technology that allows advertisers to show different ads to different audience segments watching the same TV program via Internet Protocol TV (IPTV) and set-top boxes. Those segments could be defined by behavioural, demographic, and geographic factors from first- or third-party data sets.
What is addressable or targeted advertising?
Advertising that uses a Unique ID to deliver precisely targeted advertising to either a household (via a Connected TV or Set-Top Box) or to an individual (via a mobile, tablet or computer).
Addressable TV can provide a number of benefits when incorporated into your communication strategy:
Reach Audiences at Their Most Engaged, With Full Opt-In
 Full screen, signed-in viewers on the largest screen in the house.
Increased Video Completed Views
Video completion rates are higher than on mobile devices and desktop.
Personalised Messaging
Personalise your ads, same as you would with a digital video ad on a mobile device. Except, now this is possible on the main screen in the home.
Transparency of Data
 All of the analytics benefits that programmatic data provides can now be applied to TV advertising.
Target Niche Audiences
Utilise the power of first party and third-party data in order to run hyper-targeted TV campaigns based on existing audience data. This can then be added to other third- and first-party data sets to build bespoke audiences.
Run Middle-of-the- Funnel Campaigns
Programmatic TV finally gives you the ability to move beyond awareness and engage your prospects further down the funnel. This opens up a whole raft of new marketing possibilities on TV.
Our Media Services
We do more than just buy media – we take our client's data to create a communication strategy and media plan that takes into account seasonality, flighting, audience recall. Once we have the right formula of data, we negotiate and purchase the media on their behalf, and then audit the feedback – constantly adjusting to multiply results.